Integrating Your Calendar
As a bookalocalsurveyor.com partner you can integrate any electronic calendar that is compatible with the iCal format in to your profile, ensuring you are only ever allocated projects during time you don't currently have blocked out. Our system can also add appointments to your calendar making the entire process as smooth as possible – all you need to do is show up.
To integrate your calendar we'll need a calendar ID and token. Where you find these will depend on the calendar software you use, but the most common provider is Google Calendar, instructions for which follow. If you don't already have an online Calendar we recommend Google's as a good choice – it's simple, efficient and best of all it's free!
1. Create or login to a Google account and browse to https://calendar.google.com/calendar/r.
2. In the left hand menu find the calendar you want to integrate, hover your cursor over the calendar name then click options (3 vertical dots to the right of the calendar name), then "Settings and Sharing".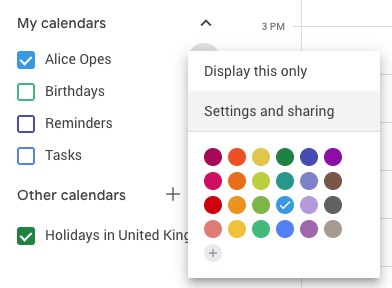 3. In the left hand menu click "Integrate Calendar" and this will show you the Calendar ID which can be added to your profile page: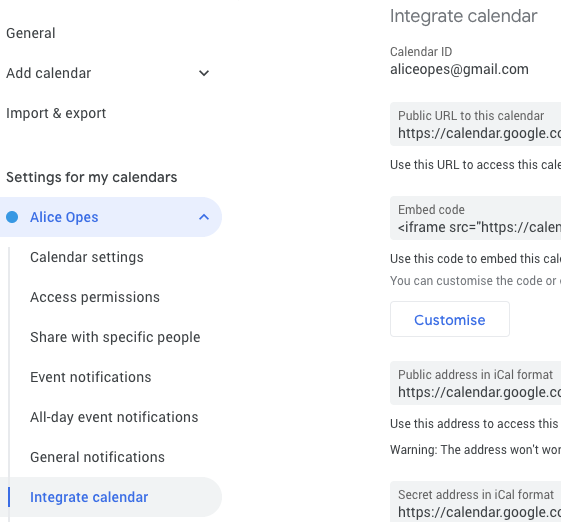 4. Next browse to https://console.developers.google.com/, and on the dashboard create a new project:

5. Call your new project "BookALocalSuveyor" or similar, set to all locations, then create. Then click "Credentials" > "Create Credentials" > "API Key":
=

6. Now you have both a Calendar ID and API Key token you can visit your profile page to enter them and your calendar will be integrated with the bookalocalsurveyor.com system.